MAHABUDDHA ART CENTER is a manufacturer of handcrafted metal Buddhist statues. Our company's name is derived from our location, the famous Mahabuddha Temple in Patan, Nepal. Patan is the sister city of Kathmandu, and has been the home of Buddhist statue making in Kathmandu Valley for over one thousand years. Mahabuddha Temple, built in 1564 AD, is the very center of the metal statue making section of Okubahal, Patan, and is famous because of the 9000 terracotta Buddhas that adorn it.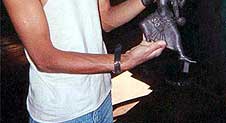 Mahabuddha Art Center was estalished in 1992 AD by the late RATNA BAHADUR SHAKYA . It has been registered officially since 1999 AD as a manufacturer and exporter of metal statues as a Home Cottage Industry, Patan, and is owned and operated by RAJU SHAKYA and RAJESH SHAKYA, sons of the founder, Ratna Bahadur Shakya . The center is located in the 3rd corner ( clockwise ) of the Mahabuddha Temple courtyard.
Mahabuddha Art Center produces very high quality Nepali and Tibetan metal Buddhist sculptures. Our main objective is to maintain the Nepali tradition of sculpture making as a fine art, and to sustain and enhance the reputation around the world of Nepali art and craftsmanship. We manufacture copper, gold plated, silver, and painted statues. All of our statues are made by hand in our home workshop. Whether our designs are traditional or exclusive to us, each example is individually made and is therefore unique.